Add to your wishlist
Available in 2021 for
PC / MAC
LAVALAMP is a 3D first-person walking simulator with a side of exploration/interaction with the environment. The game tells the story of the Space Lemmings from Space who, after running many experiments with breakfast alphabet and the space-time continuum, got blocked between dimensions (or something).
LAVALAMP is filled with colourful cereals, information about the importance of eating breakfast every morning and epic(ish) cinematics.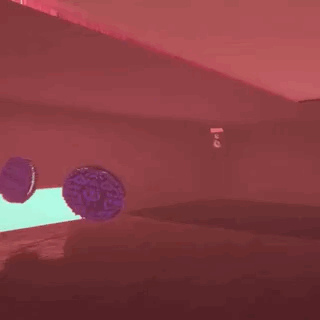 Snacks will be provided during the trip.

The game is currently under development. We are planning to launch it in Spring 2021. It's gonna be our first polished game so we hope you will enjoy it as much as we did developing it !

Gabriel Ledoux is a Montreal based composer, sound artist and digital artist. He wrote music for contemporary classical ensembles, contemporary dance shows, homebrew Dreamcast games and short movies. In 2015, he released Le vide parfait. He is part of the videogame collective 12dB.soft. Gabriel actually sucks at video games, but at some point he discovered weird games such as Journey, Virginia, What Remains of Edith Finch and Protheus and boom : he became a digital artist.
Thomas Duret is a Montreal based multidisciplinary artist, working in the performing art field as a director (theater, dance, performance, cinema) as well as a writer (cinema, poetry and critic). His love for video games started with Super Mario World in 1993 and soon became an addiction. For Lavalamp, Thomas uses his writing and director skills to nourish the project.